A Legend is Born
Confession time:  Each year, in the weeks leading up to the M4Max Challenge, a knot grows in the pit of my stomach.  It's the anxiety I feel about generating content worthy of your hard-earned admission ticket to this contest.  In hindsight, though, I needn't worry, because I have friends from all over the country who routinely feed me ideas for contests and memes.  For example, Stacey Iofredo is an old friend and OG M4Max Participant living in Ponte Vedra Beach, FL, and she recently texted me the video of Joel Dahmen's caddie, Geno Bonnalie, partaking in the "One Chip Challenge" (for the unitiated, the "One Chip Challenge" is a sort of double-dog dare, where people eat a single tortilla chip coated in Carolina Reaper pepper dust, the hottest pepper on the planet at something like 1.5 MILLION Scoville units).  Stacey suggested this would be a great M4Max contest, and boy, was she right.
Enter Connor Phillips, age 12.
Now, I want you to watch the video below, and I want you to study it carefully because after you view it we're going to break it down frame by frame as it is absolutely loaded with all sorts of amazing things happening at once.  But first, here is Connor taking the One Chip Challenge:
Okay, let's break it down.  First, young Connor begins the video with what are certainly the most incredible opening lines of anything ever captured on film.  He says, "It's the best day of the year.  It's my sister's birthday.  The Masters started.  My brother got a Cameron Smith mullet."
MY BROTHER GOT A CAMERON SMITH MULLET.  As Connor wastes no time ripping into the hot chip packaging, the camera pans over to Connor's younger brother, who I can only assume is named Dalton, standing in his pj's and looking like a young Chuck Norris with his arms folded and sporting the most majestic and accurate Cam Smith mullet the world has ever seen.  Let's zoom in and study Dalton's brilliant Kentucky Waterfall a little closer: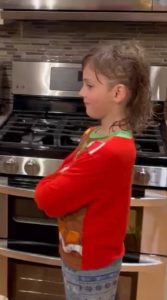 It's incredible.  100% chance Dalton rides a dirt bike.  Okay, back to Connor.  We can see as the camera pans back over to him that he has prepared correctly.  There's a glass of milk, and an open carton of sea salt caramel ice cream.  The kid is a pro.  Now, some might tremble in anticipation or even hesitate to bite into the fearsome Carolina Reaper, but not Connor Phillips.  As soon as Connor gets the chip out of the package he confidently stares down the camera and says, "Masters for Max 22" and takes several huge chomps.
But then. Panic.  His eyes widen and you can see, in real time, Connor's IMMEDIATE REGRET.  But then, he does something no ordinary kid would do.  He digs in, commits to the process.  Goes through a mental checklist of his options. Wisely turns to the milk.  As his birthday girl sister squeals with delight, Connor chugs the moo juice and, like a man being waterboarded but who refuses to cave, demonstrates his iron will.
Now, the second video here is only 4 seconds long, but it again shows us what Connor is made of.  As he's standing under the kitchen sink with a steady flow of cool H2O dousing the flames, Connor practically winks at the camera and says, "Masters for Max 22.  One I'll never forget."
Legend.  I think we can all agree Connor Phillips is going places.  The kid's got moxie, and I, for one, am impressed.  Connor, I'm not only awarding you $150 for successfully completing the One Chip Challenge, but I'm gifting you an additional $50 for your college 529 plan and another $50 to take your sister and brother out for ice cream soon.  Well done.
P.S.  Connor's father has confirmed that Connor is, in fact, alive and well this morning (albeit nervous about the pending One Chip exit). Connor's father would also appreciate it we all stay cool and not report him to Child Protective Services.
How About I…Slip Into Something More Comfortable
Thanks to my childhood friend Steve Wright and his business partner (and longtime M4Max participant Michael Meador), we've now got some sweet M4Max gear.  We have limited quantities in stock at the moment, so if you want a hoodie or a polo or even a t-shirt, act fast.  Steve and Mike own Brand Asset Partners, and they're awesome when it comes to custom branded gear, event signage and a lot more.  Brand Asset Partners is graciously donating 100% of proceeds on the gear to Camp Ho Mita Koda.  HIGH FIVE!
FYI, the hoodie fits true to size, and the hoodie, t-shirts and tech shirts will ship right away.  The golf shirts come in 3 colors (including two that would fit right in at the Butler Cabin) and will be custom embroidered and ship in approximately 2 weeks.  Also, the polos are from John Morgan sportswear (the same company that makes Peter Millar) and made from 96% supima cotton with a touch of stretchy lycra.  Old school cool, baby!
Here I am modeling M4Max Hoodie #1, which is clearly bound to become a collectors item.  The hoodie, by the way, is soft and super comfortable and the screen printing is really high quality.  Thanks Steve and Mike!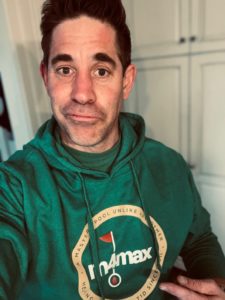 Order your M4Max gear here and get it while it's hot! 
There is a 100% Chance I Regret This
Connor, Dalton, stop reading now.  The rest of you, here are your next 2 M4Max contest ideas:
1.  CHALLENGE 1:  The Masters was once famously busted for dubbing bird calls into its broadcast.  The challenge is to send me a video of a famous golfer making or missing a putt with a random bird call dubbed over it.  Use your imagination.  The 3 funniest/best birdcall videos will each get $100.
2.  CHALLENGE  2: Paige Spiranac is a famous golf personality who has legions of male golf fans for reasons I, for one, don't fully comprehend.  Perhaps someone out there could point out a few things people seem to admire about her.  Nevertheless, the challenge is to send me a photo of your best Paige Spiranac impersonation (and to be clear, I'm aiming this impersonation contest at the MEN, not the women).  Funniest 3 photos each get $100.  Also, Mom, I'm sorry.  ¯\_(ツ)_/¯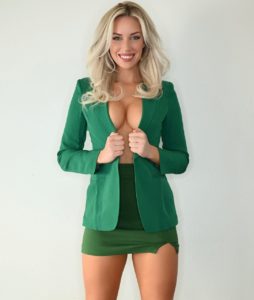 Again, I don't see the appeal.  
Catch You At The Flip Side at 3:00 Today
A number of my friends and colleagues will be joining me for cold beverages and Masters viewing today at 3:00 at The Flip Side in Hudson, Ohio.  Even if we don't know each other, I'd love it if you could play hooky and drop by to say hello.  All are welcome!
Leaderboard Links
M4Max Veterans Pool Leaderboard
M4Max Hindenburg Pool "Leaderboard"
Phil and Adam's Big Weekend Adventures
I owe you all yesterday's Phil and Adam Scott Photoshop/Meme winners, but I need to take care of a few things at work first.  I'll aim to get a message out before I head to the Flip Side mid-afternoon.  For now, Happy Friday at the Masters, and thanks again for playing in the 2022 M4Max Challenge.
Chris (Max' proud father)
P.S.  Check out how good you're going to look in your new M4Max gear…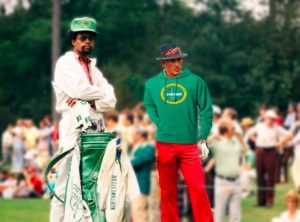 This is Chi Chi Rodriguez and his caddy, Rabbit (seriously, his name was Rabbit), whose collective coolness will never be equaled.  Still, you can grab some of their casual swagger by picking up your official 2022 M4Max merch now.  All proceeds benefit Camp Ho Mita Koda.
And if you're not already doing so, follow our Instagram here.