A Tradition Unlike Any Other
A Tradition Unlike Any Other
Hello friends, and welcome again to the tradition unlike any other.  It is officially the weekend at the Masters.
Speaking of traditions, Augusta National is loaded with them.  The honorary first tee shot that marks the official start of the tournament.  The green jacket ceremony in Butler Cabin.  Pimento cheese, the drive down Magnolia Lane, old school manual scoreboards.
But a lesser known tradition, and one that marks the official start of the weekend, is when, in the early hours just before dawn on Saturday, Augusta officials lure Verne Lundquist out to his customary perch in the 16th tower.   Augusta National is hush hush about just how they do it, but here we've captured never before seen footage of the long secretive process: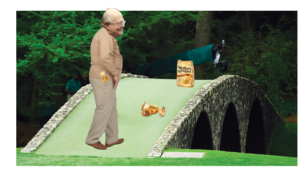 As of this writing Verne is making steady progress toward 16, where he will eventually have a big pocketful of Werther's Originals to share
Fret not, Casey and Oostie fans
Astute M4Max participants will note we continue to make little tweaks and improvements to our Leaderboards each year and even mid-tournament.  These days you can toggle between Leaderboards, search by owner name and team name, mark your friends as "favorites" for easy reference and tracking, and now quickly link to our Instagram and the official M4Max entry site where all of these tournament emails are archived.  But we've just added another Leaderboard; for those of you who had the bum luck of choosing Paul Casey and/or Louis Oosthuizen (who both withdrew), well, turn that frown upside down.  While your teams are no longer qualified to win in any of the other pools, we've created a separate mini tournament for the squads that are down to 3 players.  I'll pay out the top 2 places – $350 to first and $150 to second, $50 to third and $150 for DFL.
Find Out You're in 5793rd Place By Clicking Below
M4Max Veterans Pool Leaderboard
M4Max Hindenburg Pool "Leaderboard"
M4Max 'The Dropouts' Pool Leaderboard
Trigger Warning:  Before You Scroll Any Further, Have Your Eye Bleach on Standby
Remember last night, how I said after I sent out the Paige Spiranac Challenge, that I was instantly filled with regret?  Yeah, that was because, A) I was kinda sorta worried I might offend someone with the picture of Paige, but, B) mostly because I knew someone would go and pull a Dale Wiseman.
Who's Dale Wiseman?  Dale Wiseman, my friends, is a 3x M4Max participant hailing from our neighbor to the North in Windsor, Ontario, and well, not only does Dale have a world class Man Cave and some glorious flowing locks, he has a lot of confidence.  In the spirit of oversharing a la Paige Spiranac, here's Dale from the front…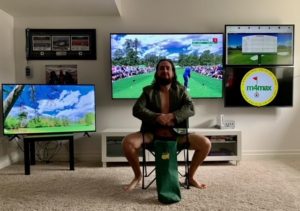 …and the back.  It's just.  It's truly…breathtaking.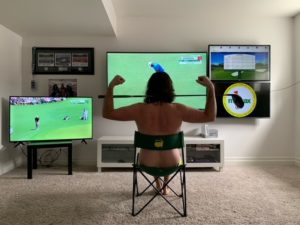 Dale, as usual in these circumstances, I have so many questions.  Are you holding the driver in your mouth? Who, pray tell, was the poor person subjected into taking this picture?  And, assuming that someone was your wife or girlfriend, did she immediately put on a hazmat suit, take the Masters chair outside, and light it on fire after this photo was taken? Still, the commitment here is truly admirable and in so many ways captures the M4Max ethos.  For your audacity, Dale, you win $150 US American Greenbacks.  Bravo.
Just to close the loop on this little contest, as noted last night, Eric Noland won $100 for the dead on Paige impression I already shared, and I'm awarding $50 to Rob Wallace, a M4Max participant who inspired this contest idea via Instagram DM.
Angry Birds
We had several tremendous bird call videos submitted, and I posted half a dozen to our Instagram page (sorry I've been slow in posting on social the last few days – I need to hire a social media manager next year, not even kidding).
Here are a few I particularly enjoyed and that I'm awarding $100 each:
In the first video above, Phil Trendell proves you don't need fancy AV equipment to create quality entertainment. Here Phil channels his inner Himalayan Monal pheasant over Ernie Els disastrous opening 7-putt at the Masters several years ago.  Nice work, Phil.
And below we have Tim Dwyer, who scores points for subtlety, with his mix of Big Bird speaking Spanish to Jon Rahm after Rahm's famous flubbed putt from 6 inches.  Side note:  Tim also submitted a decidedly NSFW entry that I posted on our Instagram.  It's quite funny; just make sure little ears aren't around.
Closing the loop on our Angry Birds contest, I'm also awarding TJ Radzwich $100 for his excellent Si Woo Kim submission.  The problem is, as soon as we shared it on Instagram and Vimeo the PGA Tour blocked it.  You'll just have to imagine a shrieking bird forcing Si Woo's ball to FINALLY drop into the hole after hanging on the lip for an eternity.
The Weather Outside is
Frightening

Dumb

Seriously.  I'm in Northeast Ohio where IT WAS SNOWING THIS MORNING.  Wth.  Not cool, Mother Nature.

The forecast isn't much better at Augusta National, either.  They're calling for a high of 56.  That's downright chilly, and it's going to make things interesting.  I sure hope Joe LaCava packed an extra can of WD-40 in Tiger's bag.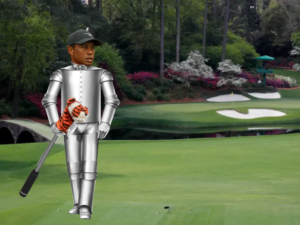 Tiger currently sits T-19.  Can he follow the yellow brick road green fairways of Augusta to Masters glory on Moving Day?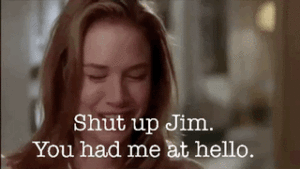 Hello friends…
We're less than an hour away from the greatest opening montage in all of sports, when Jim Nantz sets the table as only he can for the drama that awaits.  There's plenty more to come, but for now, wherever you are, I hope you're able to relax this weekend and enjoy…The Masters.
Chris (Max' proud father)
P.S. Saturday Challenges
We have M4Max participants from all over the world.  Just today I received an email from Derek Few, currently following along in Bangalore, India.  Challenge #1, therefore, is to send me a NON-PHOTOSHOPPED picture of you CURRENTLY watching the Masters in an unusual or exotic place.  Here are the rules:  send a picture of yourself holding a sign that reads "M4Max2022" to M4M@camphomitakoda.org.  Again, the photo must be taken in the present moment and non-photoshopped, where it's clear you're are where you say you are. I'll use my discretion to send some cash to those watching the Masters in the most interesting/unusual/unexpected or even funny places today.
Challenge #2 is for the Photoshoppers and Meme Makers.  Send in your best M4Max themed entry on how your picks are doing, how you feel about playing in M4Max, etc.  I'll post the good ones on Instagram as I receive them and award the best with some cash.
The rest of you, keep yourself busy this afternoon with Verne Lundquist Bingo.