Can He Turn Back The Clock?  
Can He Turn Back The Clock?
I think we all know the story about the young, preternaturally talented phenom who once dazzled the world with his physical gifts, only to have an embarrassing fall from grace at the height of his fame that forced him away from the sport. And yet, battling age, a plethora of injuries, and a skeptical press, that same man then returned to the world's biggest stage with many saying he was well past his prime.  Injured, worn out, under more pressure than most men could bear, that man improbably demonstrated why many still call him the greatest.
Of course I'm talking about New York Knights Right Fielder Roy Hobbs, who in his final at-bat smashed a ball so far it collided with the outfield lights, thus causing an inexplicable electrical shortage and a dangerous high voltage situation that rained fire upon the thousands of horrified fans being scorched by falling embers as Hobbs solemnly circled the bases.
Will Tiger Woods have his Roy Hobbs moment at the Masters this year?  Or will Father Time and a rusty Go-Go-Gadget leg prove too much for even Tiger Woods to overcome?  Love him or loathe him, it's THE storyline at this year's Masters, and it adds yet another chapter to Augusta's thrilling history.  I, for one, am here for it, and I look forward to leaving soon for Flip Side for a cold beer and M4Max camaraderie.  Before that though, we have a few announcements and updates:
Adam and Phil Update
I posted many of these to Instagram last night, but once again, the M4Max Photoshop Army came through with dozens and dozens of off-the-wall and often NSFW entries.  To those I have not been able to respond to, please know that I appreciate your effort, I really do  Alas, unlike youth sports in America, there are no participation trophies at the M4Max Challenge.  Here are the entries I'm deeming worthy of some cash.
First, as was noted in one of yesterday's missives, Chris Underdown quickly threw down a 1-2 combo that made me spit out my coffee. Chris takes home $150.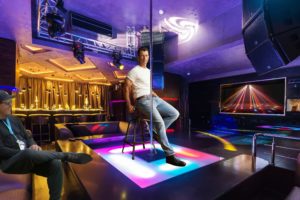 Next, Gina Cimaglia submitted three quality entries, including this one titled "Tiger, hide yo wife":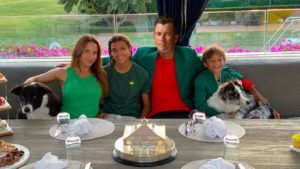 Gina also submitted the next two which stood out both for their creativity and craftsmanship: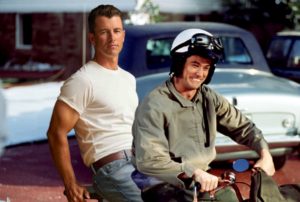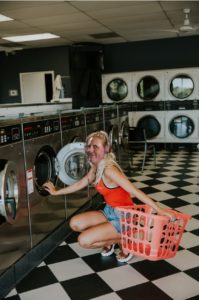 Gina, I'm giving you $150 for your efforts.
Next, we have TJ Radzwich who envisions Phil catching up on a long overdue trip to Costco.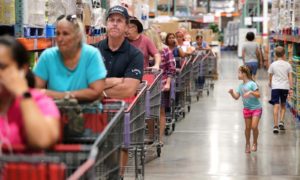 TJ also submitted this Back to the Future themed entry, asking the question, "if there's a Masters without Phil, did he ever really even exist?"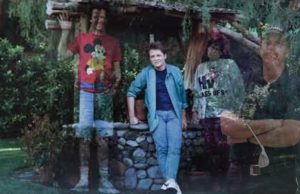 TJ, for your creativity I award you $150.
David Macek gets $75 for his Adam/Phil crossover, picturing Adam teaching Phil how to rehabilitate his public image: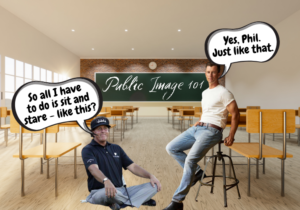 Who was that unruly Masters patron dragged off by Augusta po-po and now sleeping it off in the Butler Cabin basement drunk tank?  I'll let you decide, but for his creativity, I award Fred Malone $75.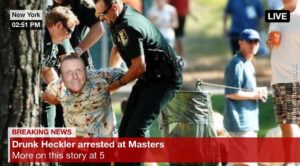 I had a good one of Phil alone on the couch from Jared Kanallakan, but this submission, from Tyler Treuting, took it up a notch.  Tyler is surmising that Phil's comments are the result of Impractical Joker hijinks gone awry.  Tyler, you get $50.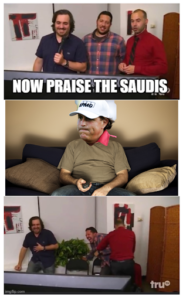 And finally, I received many entries with Phil on a camel, Phil in Saudi Arabia, and Phil in the pocket of Greg Norman.  However, several of you also envisioned Phil visiting his local ice shanty (again, I'm from the town whose Mayor noted that ice fishing shanties lead to…prostitution?), and I appreciated many of them.  For this one, Joe LaGuardia earns $50 and my admiration.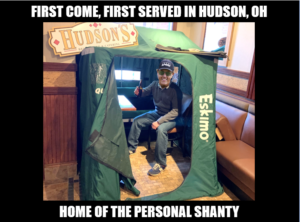 As I write this I've been receiving a steady handful of birdcalls and Paige Spiranac "impersonations" (the latter which have caused me to lost my appetite).  Nevertheless, keep sending them in and I'll start to post on social and in subsequent messages.
Never Miss an Email or the Leaderboard
Have I mentioned many emails go to spam?  If you're in that group, well, I'm not sure how you're reading this.  Still, if a friend has passed any of them on, you don't need to worry about future missives.  We're now posting each email/novel to the original M4Max entry site here.  Simply click on the "Updates" link and you'll find them archived.  And, simply scroll down the main page to see our 3 Live Leaderboard Links.