How'd You Like to Mow My Lawn? 
How'd You Like to Mow My Lawn?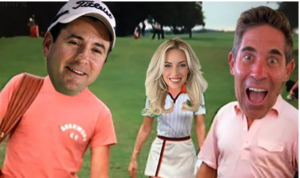 No? Well in that case.  How'd you like to play a round of golf with former PGA tour star Ben Curtis?  The catch is, you've got to play with yours truly as well.  If you donated an "extra" $20 or more to this year's 2022 M4Max Challenge, your name is loaded into a spreadsheet with a chance to win a round with Ben and me this summer*.
I'll go Live on Instagram at 3:00 to pick the lucky winner, so tune in then.
*Our team has sent multiple invitations to Paige.  So far all we have received are numerous "cease and desist" letters and "threats of a restraining order" in return.  We're not sure what that means, so we'll keep trying but cant't guarantee she'll be there during our round. 
Speaking of Caddyshack…
I've had a handful of entertaining memes come through re: "How it started / How it's going".  Fred Malone, you win $50 for this quality entry.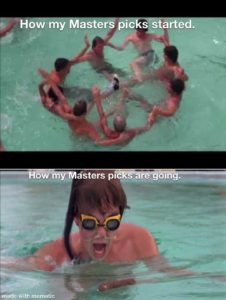 M4Max Around the World
I've had pictures come in from Ralph Elder chilling on the beach in St. Maarten, as well as Derek Few, watching the Masters and following the M4Max Leaderboard with an appropriately green coated friend in Bangalore, India.  Derek, you get $75 for being the furthest from us.  If someone south of the equator (where my Australia peeps at?) can send me a pic, there's $75 in it for you as well.  Must use #m4max2022 in the pic and be able to verify you're actually in Oz.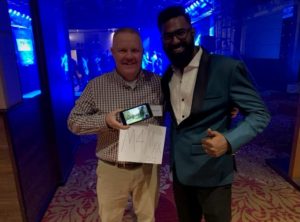 Peddling for Dollars
Kale Love, a first time M4Max participant, sent the following picture in earlier today, proudly boasting of his plan to burn some calories while watching final round coverage.
But Kale, if you think I'm going to throw some lettuce your way just because you're guilting us all with your commitment to a healthy lifestyle, think again.  There's $150 in it for you if you send back a picture or video of you on the Peloton with the Masters in the background AFTER YOU'VE COVERED 50 MILES.  Game on, Kale, and make sure we can see you've actually covered a half century.
A Few More Ways to Make a Buck
Even if your teams have fully imploded, here's a chance to earn back the price of admission:
The FIRST person to do each of the following wins $50 cash.
Post a picture of you drinking an AZALEA cocktail (the official cocktail of the Masters) in front of the final round coverage on TV, to Instagram, while using the hashtag #M4Max2022.  I'll monitor the Insta – first post that checks all the boxes gets $50.
Post a picture of any infant under 1 year of age watching TV with you, along with the hashtag #M4Max2022, to Instagram.  Again, first post gets it!  If the kids is wearing Masters gear, I'll make it worth $75.
First TWO people to take a proud pic to Instagram showing off their insulin pump or CGM while watching the Masters, again using the #M4Max2022 hashtag, gets $50.
Again, I'll go Live on Instagram at 3:00 to draw our Ben Curtis winner, so tune in then. Good luck and enjoy the best afternoon in sport!
M4Max Main Pool Leaderboard
M4Max Veterans Pool Leaderboard
M4Max Hindenburg Pool "Leaderboard"