Let's get this Party Started!
Let's get this party started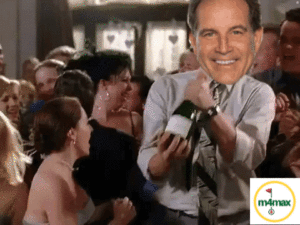 Hello friends, and welcome again to the Masters pool unlike any other, the M4Max Challenge.  It's time to pop the champagne, too, because we once again shattered all prior records for entries and ultimately, money raised to send kids to Camp Ho Mita Koda.  Check out these stats:
Over 3,100 individuals entered from every state in the union, 6 countries and whatever "US Minor Outlying Islands" means (welcome, Tom Hanks from Cast Away!)
More than 7,500 total teams registered
$220,915 collected in both Entry fees and "Extra" donations ($215,112 net of credit card fees)
$119,803 in net team Entry fees / $95,309 in net "Extra" donations to CHMK
2/3 of Entry fees goes to CHMK, leaving us with a pot I am rounding up to $80,000
1/3 of Entry fees ($39,803) + $95,309 in "Extra" donations = $135,112
More than 180 camp scholarships that can be awarded to send deserving kids with Type 1 Diabetes to Camp Ho Mita Koda!
One more time for those in the back
We just raised over $135,000 to make a massive difference in the lives of many, man kids.  I am so grateful…thank you! 
Taking a quick trip to Vegas brb. 
I've got $80,000 burning a hole in my pocket, and while it's tempting to order up a Gulfstream for a Masters fueled Vegas bender, I should probably figure out how to spend it here.  If you've been in this pool before you know that each year I tweak the payouts and try to make some improvements.  With 80 large to spend, we're going to have a lot of fun over the next few days, including one lucky M4Max participant bound to have the most nerve wracking/rewarding Sunday afternoon of his or her life.  Here are this year's payouts:
1st place – $20,000
2nd place – $10,000
3rd place – $7,500
4th place – $5,000
5th place – $2,500
6th place – $2,000
7th place – $1,500
8th place – $1,250
9th place – $1,000
10th place – $900
11th place – $800
12th place – $700
13th place – $600
14th place – $500
15th place – $400
Comeback Award* – $2,500
2nd best Comeback – $1,250
3rd best Comeback – $350
DFL – $2,500
2nd DFL – $1,500
3rd DFL – $750
1st Round Leader(s) – $2,500
36 Hole Leader(s) – $2,500
54 Hole Leader(s) – $2,500
M4M Veteran Pool**
1st Place – $750
2nd Place – $350
3rd Place – $150
DFL – $250
Hindenburg Bracket***
1st Place – $1,500
2nd Place – $700
3rd Place – $300
DFL (?) – $500
Discretionary Slush Fund – $5,000****
I have rounded and used my own discretion on how to break down the payouts.  There is no "vig"; 67% of net entry fees go to the winners /  33% to CHMK.  Discretionary funds will be paid to winners of various contests throughout the M4M Challenge.  Keep your eye here and on our M4Max Instagram.
*The "Comeback Award" goes to the participant who has the best performing team on Saturday/Sunday.  If your team is mired in the doldrums after the first two rounds, fret not; if your team conjures up some weekend magic, you're in for a payday.
**We had almost 400 people who self-identified as a M4Max Veteran, or a participant who has been here for 5 years or more.  This group of M4M geezers will be playing for a total prize pool of $1,500, including a DFL prize.  The M4Max Veteran pool has its own Live Leaderboard link below.
***New this year, we have another pool, the Hindenburg Bracket, for those who wanted to try their hand at deliberately torching a team.  Also, because I think it's hilarious, I'm going to pay someone $500 for having the "worst worst" team.  In other words, one special person will be proven so inept at picking a bad team, that they'll have accidentally picked a good team. BAM, INCEPTION.
****Finally, I've got $5k in pocket money to throw at all sorts of goofy contests.  First, there is $150 still out there for anyone who can send me a video taking the "hot chip challenge" and referencing M4Max 2022 in the video.  Second, make sure to follow along on our Instagram for more contests prompts throughout.
Take me to your Leaderboards
If you played last year, you know the Leaderboard was pretty slick.  You can search your name, team name and track your friends and family (let the trash talking and side bets begin).  I invite you to check out how Ben Curtis' team, "Claret Jug Guy",* is faring against my team, "Ben Curtis is My Caddy".  Remember, if I beat Ben he'll have to make like Danny Noonan and carry my bag later this summer (I am imagining the first line of my obituary many years from now: "Chris Mikolay, who once had a British Open champion caddy for him in his local club championship, recently died at age 105 in a water skiing accident involving the Hawaiian Tropic bikini team…").  Now, on the other hand, if Ben's team somehow prevails over mine, well, you'll see me panhandling out on the mean streets of Hudson in order to make a sizeable donation to the Ben Curtis Family Foundation.  Game on!
Bookmark these links for use throughout the tournament:
M4Max Veterans Pool Leaderboard
M4Max Hindenburg Pool "Leaderboard"
*Well, this is awkward
I've just been informed that Paul Casey has WD'd from the Masters.  As our rules specify, if you have a player who WD's, your team is torpedoed ¯\_(ツ)_/¯ .  Guess what?  Ben Curtis picked Paul Casey (insert facepalm emoji).  Ben, you better hope one of my players slips on a banana peel and also WD's, or I'll see you on the 1st tee this summer with my golf bag on your shoulders!  :)
In case you're interested, here are Ben and I making our selections yesterday:
Click on the video above to watch Ben make a pick he will live to regret.
Click above to see Chris trash talk a British Open champion.
Alphabetical List of All Teams Entered
We're working on providing an alphabetical list of all teams.  It's a huge file, but I'll have a link to it in my next email later today.  For now, please check the Live Leaderboard to ensure your teams are there, and let me or CHMK Camp Director, Ian Roberts know at ian@camphomitakoda.org
This Year's Winning Dark Horse Pick
Those of you who have participated in the past know a key M4M tradition is the unveiling of my dark horse pick, aka the one bold choice few are brave enough to select and who will carry my team to M4M riches.  Sure, the cynical among you will note my previous picks, including former yoga instructor-turned Super Mario enthusiast Erik van Rooyen, and human brush fire Kiradech Aphibarnrat*, brought my family great shame.
However, this year, as I began my Dark Horse preparation and scanned the Augusta invite list, one name immediately stood tall among the others.  That man, of course, is Séamus Power.
What are the strengths of his game?  Don't care.
What is his golfing record?  Does not matter.
How old is he?  DON'T YOU GET IT?  HIS NAME IS SEAMUS POWER.
I knew, as soon as I saw the name, I had my man, and there was no further research needed.  However, one can make some very obvious assumptions about a man named Séamus Power.  First, his middle name is almost certainly something like "Warhorse" or "Thunderbolt" or even, "Séamus Power".  In fact, that's almost certainly his full name:  Séamus Séamus Power Power.  Incredible.  With a name like that, he simply cannot lose.
Wait, what did you say?  This is what Séamus Power looks like?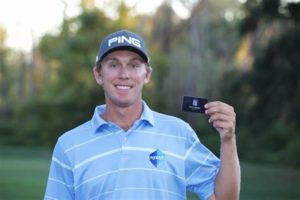 Uhhhhh. Doesn't matter.  Séamus Power wins by 25 shots this week.  One can assume, also, that after donning his green jacket Séamus will jump onto the back of his trusty winged unicorn and fly off majestically in the setting Augusta sun.  Count on it.
*Is Kiradech still available? Asking for a friend.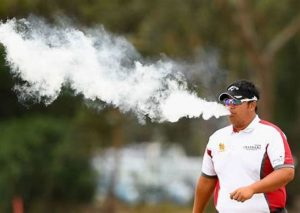 See you at the Flip Side? 
For several years many M4Max participants hailing from Northeast Ohio would join me at the best burger joint around, Flip Side, in the charming hamlet of Hudson, Oh (yes, we're the town with the Mayor who said ice fishing shanties lead to prostitution).
If you're local and would like to join me, Flip Side will be opening early for M4Max participants at 3 pm tomorrow afternoon. Swing by, I'd love to high five and toast to your participation and another amazing M4Max Challenge.
Lost in Space
We use Mail Chimp, a professional email forwarder, to send these emails.  Predictably, MANY of them never make it to their intended destination.  IF YOU RECEIVE THIS MESSAGE, please forward it to your friends and family who are playing so they receive the Leaderboards.  We will also post every email I send out on the Max.Propelmg.com website.
We're just warming up…
Thanks for being patient with me as this took forever to organize today.  But the hard part is done:  stay tuned for many more emails and plenty of M4Max action – the fun is just beginning (and I have a few cool things to share soon).  And on behalf of Camp Ho Mita koda, I am so grateful for each you who are participating and those who so generously donated extra to help kids dealing with Type 1 Diabetes.  If you live with the disease or know someone who does, you know it is a lifelong, 24/7/365 struggle, and it can be particularly hard on kids.  Attending Camp Ho Mita Koda absolutely changes the trajectory of a kid living with Type 1 – they become more confident and inspired and know being Type 1 doesn't limit what they can achieve.  $135K+.  Simply incredible, and I'm so humbled (truly).
Thanks so much for supporting kids and Type 1 Diabetes, and GOOD LUCK!
Chris
P.S.  Adam Scott is Asking About You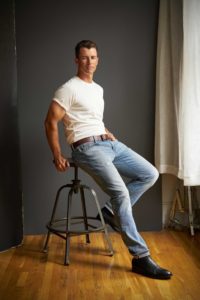 Fire up your Photoshop and start your Meme machines.  Here are our first few contests:
1.  What is Phil Mickelson doing this weekend?  Send in your best photoshops of Phil cleaning out the garage or doing something mundane.
2.  Use this photo of Adam Scott (que guapo!) to make something funny and unique:
Submit your photos to M4M@CAMPHOMITAKODA.ORG by Midnight Eastern.  I'll post the 3 best in each category on Instagram tomorrow – winner (judged by yours truly) gets $150, second and third get $75each.