I Should Know Better by Now
I Should Know Better by Now
When I started the M4Max Challenge, I never envisioned enlisting an army of wannabe-Photoshoppers and Meme-Makers to unleash an avalanche of absurd and occasionally over-the-line "art" upon the unwitting participants of this pool.
And yet here we are.
Today's challenge was to capture (separately, I assumed) 1.) Phil's weekend adventures; and, 2.) Adam Scott's best Blue Steel.  I should have known I was about to open the Ark of the Covenant.  For reference, here is the image of Adam Scott I suggested be Photoshopped: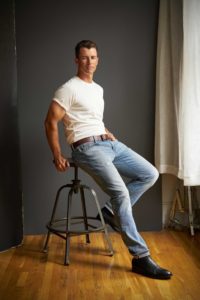 Annnnnnnnnd here's what M4Max participant Chris Underdown quickly returned to me: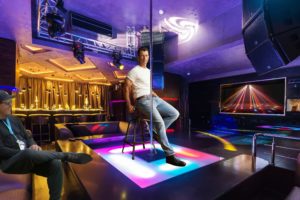 Notice, of course, the patron on the far left of the image.  I think we can all agree that we should just shut this year's pool down, hand Chris the $80k, and go home to enjoy a relaxing weekend watching Cam Smith turf Amen Corner in his Trans-Am.  Chris, you have submitted a true masterpiece, and I'm awarding you $150 right now.
As I mentioned, whenever I throw out the Photoshop/Meme contests, I do so with a mixture of equal parts fear and excitement.  Thus far my inbox has already been deluged with over 50 aspiring entries in each category, and many of them are quite good.  I'll post some later on our Official M4Max2022 Instagram, but for now, here's just one more that I enjoyed (bravo, Gina Cimaglia.  Bravo.):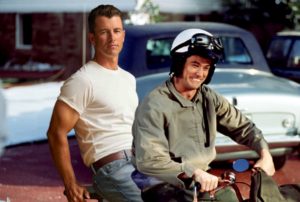 So regarding my M4Max picks…you're telling me there's a chance??
Stay tuned for more info on who won our initial contests tomorrow, but for now..
Cam Smith, who looks like the illegitimate love child of Joe Dirt and a Keebler Elf, just peeled out of the Augusta parking lot and is on his way to the Double Deuce. Earlier today, of course, Cam lit up Augusta for a 4 under 68 and sits just one shot back of Korean sensation Sungjae Im.  If Cam can stay out of trouble tonight, he'll be one of the favorites to wear the world's first sleeveless Green Jacket on Sunday.
How did some of the other top golfers fare?  The newly minted #1 player in the world, Scottie Sheffler, looked, well, like the #1 player in the world.  Scottie posted a solid opening 69.  To nobody's surprise, former Masters champion Dustin Johnson also loped around Augusta in 3 under, and to everyone's surprise, so did 2016 Masters champ Danny Willett.  Also, it seemed many people were making quite a fuss about some fella named *checks notes* Eldrick Tont Woods, who evidently goes by "Tiger".  Tiger, who we're told hails from California and is currently ranked #973 in the world, finished at 1 under par.
Konsiderable Karma for Kokrak Krew
Last night the M4Max Challenge, and Camp Ho Mita Koda, received a $5,000 donation from the Kokrak Krew, the charitable organization supporting Jason Kokrak.  Jason then rode that good juju around Augusta in -2 and sits just a few shots back and in perfect position.  If you're on Instagram and/or Twitter, please give the Kokrak Krew"s Insta and Twitter a quick follow as they just launched their social media presence and it would be cool to return the favor with some support.  Thanks!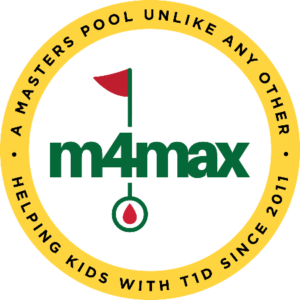 M4Max Challenge: Round 1 Winners!
There are over 7,500 teams playing in the 2022 M4Max Challenge, and yet, after just 18 holes, we have just 2 participants standing together atop the mountain.  Randy Lewandowski and Jesse Shamp, who picked the exact same team, share the lead at -14 and will share $2,500 for their efforts.  Congrats Randy and Jesse!!
The Reverse Hindenburg
Do you realize there are two people tied at -9 in the Hindenburg Pool?  DO YOU REALIZE HOW HARD THAT IS TO DO??  In the Hindenburg Pool, of course, you're picking teams that are SUPPOSED TO BE TERRIBLE.  And yet, after Round 1, Jeff Searing and Michael Babjak sit at the bottom (?) of the Hindenburg Bracket for choosing teams that are ACCIDENTALLY EXCELLENT.  Slow clap, Mike and Jeff, slow clap.
Now, just to be clear, there are no payments for Daily Winners in the Hindenburg or M4M Veterans pools.  But there WILL be a payment that is the inverse of the original (and still existing) DFL prize.  Call it the Reverse Hindenburg, which sounds like something you'd find on Urban Dictionary (and that I'm too scared to look up).
Who Wants a Green Jacket When You Can Wear a Green M4Max Hoodie?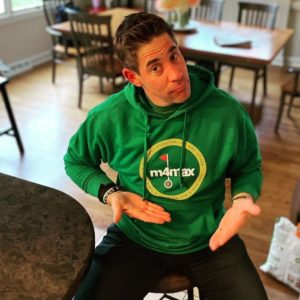 That's right.  Get your Christmas shopping done early, because we've got merchandise dropping soon that will make every Dad Bod sexy.  Stay tuned as we launch the site on Friday morning where you'll be able to buy some really cool hoodies, t-shirts and golf polos.  All proceeds, of course, go to Camp Ho Mita Koda.
Mighty Casey Has Struck Out
As the benevolent dictator of this contest, I get to decide how to allocate our prize money.  Today, a bunch of you picked Paul Casey, who decided to pack up his Earl Grey tea and head back to England early.  Casey's WD means everyone who chose him now has no chance to win, including Ben Curtis, who now has to caddy for me this summer as a result*.
But fear not, Casey fans.  Tomorrow I'm going to create an Excel spreadsheet to include only those who picked Casey, and I'll pick one person at random from the group in an Instagram Live post to win $200.  Stay tuned.
*Did I mention Ben has to caddy for me this summer?  Because he does.  He has to caddy for me this summer.
Hit the Live Leaderboards Links
M4Max Veterans Pool Leaderboard
M4Max Hindenburg Pool "Leaderboard"
There is so much M4Max action left, including – wait for it – a kid who literally just completed the Hot Chip Challenge. I just received the video, and it's every bit as amazing as you'd expect.  This fine young man is an instant legend in my book, and I'll upload and send the video tomorrow.  For now, get ready for Round 2 and more memes, photoshops, payouts and all the gooey M4Max goodness you know and love.
Follow our Instagram here, and if your teams are nowhere near the top, keep your head up – there is still plenty of golf left.
Chris (Max' proud father)
P.S.  If you're in Northeast Ohio, join me and many of my friends on Friday afternoon at Flip Side in Hudson, OH, at 3:00 pm, for some cold beverages and Happy Hour Masters action.  Hope to see you there!