Vest on. Vest off. Vest on. Vest off. 
Vest on. Vest off. Vest on. Vest off.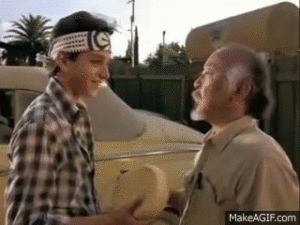 For 17 holes today, recently crowned #1 golfer in the world Scottie Sheffler threatened to turn this year's Masters into a snoozefest.  The most exciting part was watching him put his vest on.  And then take it off.  And then put it back on.  Yaaaay.  sldkjfoiejroqijef;lkndf;a kldj   Sorry, I just fell asleep typing that and hit my head on the keyboard.
At least Scottie made things interesting at the last.  After another solid birdie on the penultimate hole, Scottie swiped it deep into the trees on the left, and after an extended discourse on pine needles, Sheffler took relief and ultimately, came away with a pretty clutch bogey.  Scottie will sleep on a 3 shot lead, but here's the thing: he has no idea what he's in for when he steps onto the first tee tomorrow.
Because his closest competitor, Cam Smith, has that wild gleam in his eye.
Even though he just stepped off the course, Cam is already burning rubber up I-20 for a quick visit to his taxidermist followed by a long night shooting whiskey and starting bar fights at the Double Deuce.  Mark my words: tomorrow Scottie's gonna stride up to #1 tee with the calm demeanor of a man who went to bed early and ate a healthy breakfast, and meanwhile, Cam's spent all night raising hell and will bust out through the gates of Augusta strapped to the back of a bull that ain't never been tamed.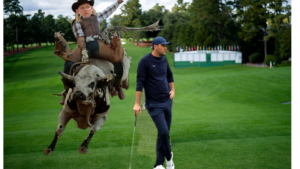 The bull's name is Typhoon. He's pissed off, hates golf, and only answers to the man with the yellow mustache.   
Round 3 Winners!
Like 8 seconds on the back of Typhoon, it was a wild ride on the Leaderboard today.  I saw plenty of names jockeying for position, but after 54 holes, we're left with 3 men atop the main M4Max Leaderboard.  Congratulations to David Bosze, Stephen Coleman and OG M4Max Participant, Peter Walker (about time you won something, Walker!).  David, Stephen and Pete will share $2,500.  Congrats!
The Dropouts Leaderboard
As I mentioned in my Round 3, Update 1 message, if you selected Paul Casey or Louis Oosthuizen, your teams were moved into a special pool just for your remaining 3 players.  This included our Hindenburg participants; I want everyone who had the misfortune of choosing Casey or Oostie to have a chance for M4Max cash.  Make sure to check out where you stand, and by the way, there was a typo in my prior message.  I plan on paying 3 places in the Dropouts pool:  $350 for first, $150 for second, $50 for 3rd, and $150 for DFL.
The Comeback Award
If you're silently cursing Brooks Koepka and Bryson DeChambeau for chopping it around Augusta and Deep Six'ing your chances of M4Max immortality, or better yet, if you're sitting somewhere in the mediocre middle at something like 3,875th place, well, there's still one chance for glory.  The "Comeback Award" gives the team that performs best over the final 36 a chance to win fat cash.  Reminder: first place Comeback pays $2,500, 2nd place will win $1,250, and 3rd place out of the Comebackers wins $350.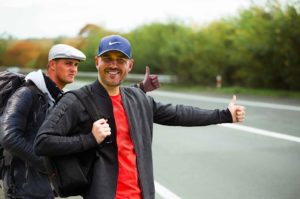 Speaking of Brooks and Bryons, it's nice to see they've made up.  But it's too bad they're now thumbing a ride to the next tour stop after hacking it around over the first 2 rounds and missing the cut.  
The Reverse Hindenburg
I'd still recommend against attempting it, but someone is going to prove themselves the worst at picking the worst teams.  That honor currently belongs to Mark Hobson, whose team is collectively -4.  If Mark had entered his Hindenburg team in the general M4Max Pool, with 7,500+ entries, he'd be currently sitting T-49 with a legitimate chance to win the whole thing!  Impressive.  Mark, if you hold on, you'll take home $500 tomorrow for the first annual Reverse Hindenburg prize.
18 Holes with the Claret Jug Riding Shotgun
If you entered our pool and donated an extra $20 or more to Camp Ho Mita Koda, your name is entered into a raffle to win a round of golf with 2003 British Open champ Ben Curtis.  I'm sorry to say, you also have to play with yours truly, however, I'll at least be buying the drinks all day.  The prize is 18 holes at the Country Club of Hudson in Hudson, OH, for you and a friend.  Ben and I think it would be really cool if someone traveled in for it, so we'll make reasonable accommodations for travel schedules if our winner isn't local. If you're not able to make it, you can either transfer the round to a friend who can play, or take $500 cash.
Every $20 increment increases your chances to win.  So, if you donated $100, you've got 5 chances to win.  I'll set up the spreadsheet, test it thoroughly, and then hold the raffle over an Instagram Live video at 3:00 pm tomorrow (just before the leaders look to make the turn). If you donated an extra $20, THANK YOU, and good luck!!!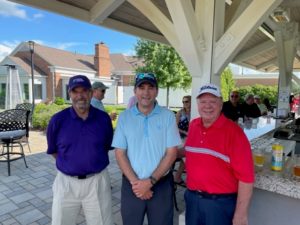 Last year's "Golf with Ben Curtis" winner, Mike Samuels, on the right, with his longtime golfing buddy Bob, and Ben.  It was a great day out on the links.  
Oh, one more thing:  have I mentioned yet that Ben lost our bet? Thanks Paul Casey! That of course means Ben will be forced into carrying my sticks during my club championship later this summer.  Congrats, Ben!  I hope you like watching terrible golf.
BTW, if you'd like to learn more about Ben's fantastic charity, the Ben Curtis Family Foundation, which provides over 6,000 meal kits to children with food insecurity issues in Northeast Ohio every month, please click here.    It's an awesome organization, and by the way, Ben will be holding his own "Big Ben's Open Challenge", similar to M4Max, this summer.  Please follow their Instagram and Facebook to hear future details.
M4Max All Over the Globe
I got a few interesting entries to the "most unusual or unexpected location".  Our leader in the clubhouse is Paul Walsh, who sent in the following pic from Norway.  Paul and his crew were bundled up in the setting Norwegian sun while keeping track of the Masters and M4Max Challenge.  Paul, I award you $75.  Everyone else, I'm happy to spread the wealth – if you're in a very unusual location, send a pic along proving it.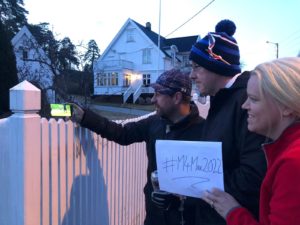 I also liked this picture I got from Peter Walker, our Round 3 winner, who was evidently more interested in tracking the M4Max Live Leaderboard on his Apple Watch than on watching the US Women's National Soccer team in Columbus.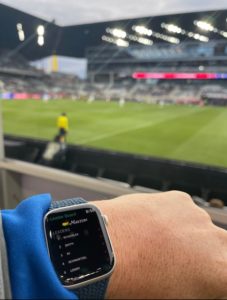 The Masters Doesn't Begin Until…
Jim Nantz say it does, damn it.  That's right, tomorrow is the final round of the greatest event in golf, and if history is our guide, over the Back 9 on Sunday history will again be made.  But will Scottie prove worthy of his #1 ranking?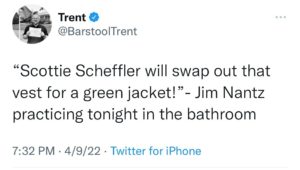 Or will Cam Smith slam a PBR tall boy on the first tee and subsequently tear into Augusta National like Typhoon going after a rodeo clown?
By the way, he's a long way back, but don't count out Justin Thomas, who has a propensity to go low, or even the old silver miner, Yukon Cornelius Lowry, who has an ability to bounce back.
So you're telling me there's a chance? 
Provided you have a team in the Top 5% of our Leaderboard (roughly the Top 300), you've still got a shot at winning $20k.  And if you're sitting somewhere in the Top 100 at the moment, you're in a very good shape, and if by chance you find yourself within a few shots of the lead at the turn tomorrow, find the nearest brown paper bag – and try to keep breathing.
I'm signing off for now.  Tomorrow I'll have more frequent emails, including a special message about how this pool changes lives.
Chris (Max' proud father)
P.S. Show Your M4Max Spirit
Keep the memes coming – I haven't had a whole lot of time to capture most of those that have been sent my way today, but please keep sending along any fun memes related to "how it started / how it's going", and the like.  I've got more cash to spend, so get creative!
Also, I love posting pictures of people gathering with their families to watch throughout the day.  I'll try to do more social media posting tomorrow, so please send me pics of where you're watching, along with the hastag "#m4max2022".  Thanks and have fun!
P.S.S. – Even Paige Likes the M4Max Merch!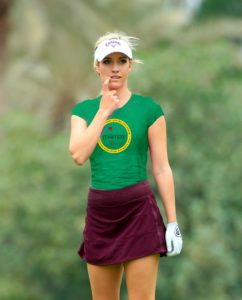 Okay, fine, it's photoshopped, but still, I'm sure she'd appreciate our little contest. If you'd like to proudly wear some M4Max gear, we have plenty of t-shirts and a handful of hoodies left.  Check it out here.
.P.S.S. I Just Thought of Another Almost Certainly Idiotic Photoshop Contest That Could Be Amazing
For my photoshoppers: Call it the "Love Child" contest.  Combine two golfers to make something amazing.  Here's Camson DeChamsmith for inspiration.  $100 to the best 3 entries.